Six tiny pills.
I didn't want to start them on the week of Thanksgiving. We had originally hoped my regimen would begin in the late summer. The drug had just met FDA approval. The drug that my Oncologist had texted me about from a conference last spring. And then we thought I'd get going on it in early fall. And after an insurance appeal process put into motion by my very diligent Oncologist, we got the green light to go.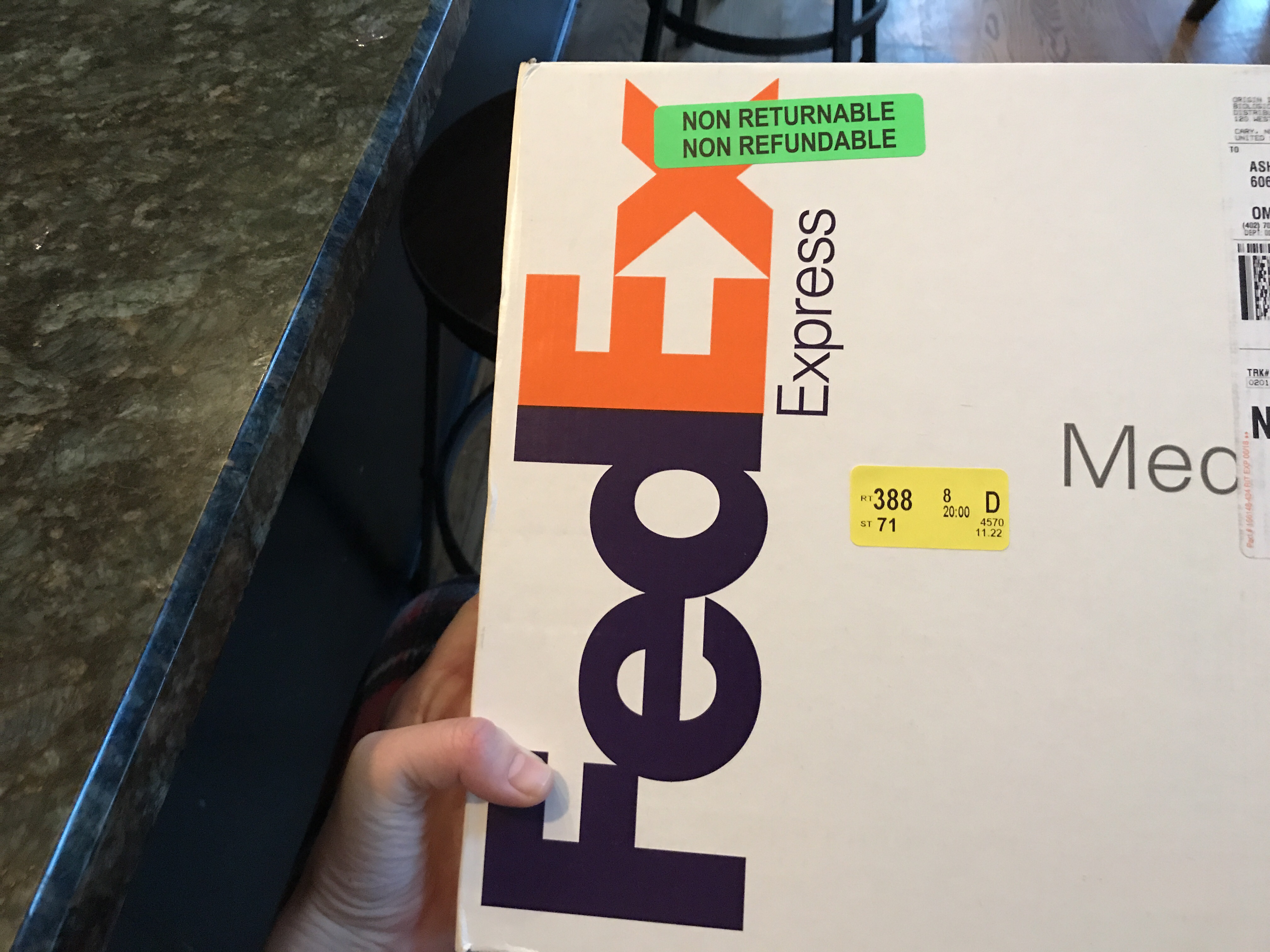 +++
My breast cancer was what is known as Triple Positive. The short explanation of this is that my cancer fed and grew from three things: estrogen. Progesterone. And a little weird thing called HER2.
The beauty of pathology being able to determine what each patient's cancer is fed by is that they are able to know what to take away from the body OR to target with specific therapies in order to halt the growth and progression, while also, in many cases, killing the cancer simultaneously.
So. My original chemo was based on my triple positivity. I had 6 rounds of treatment of the same IV chemo cocktail — carboplatin, taxotere, perjeta, and herceptin.
Perjeta and Herceptin are fairly new to the market of cancer treatment. And they have also been called game-changers. They target that HER2 business. And so, HER2, became a little less scary when those drugs became available. Prior to that, HER2 was generally pretty hairy because it automatically makes the cancer a fast-growing beast.
I was lucky. I was lucky to have cancer in a time where those therapies were available to me and made my prognosis more positive. Triple positive, for me, was a huge plus.
And now. I am lucky once again.
For these six little pills.
+++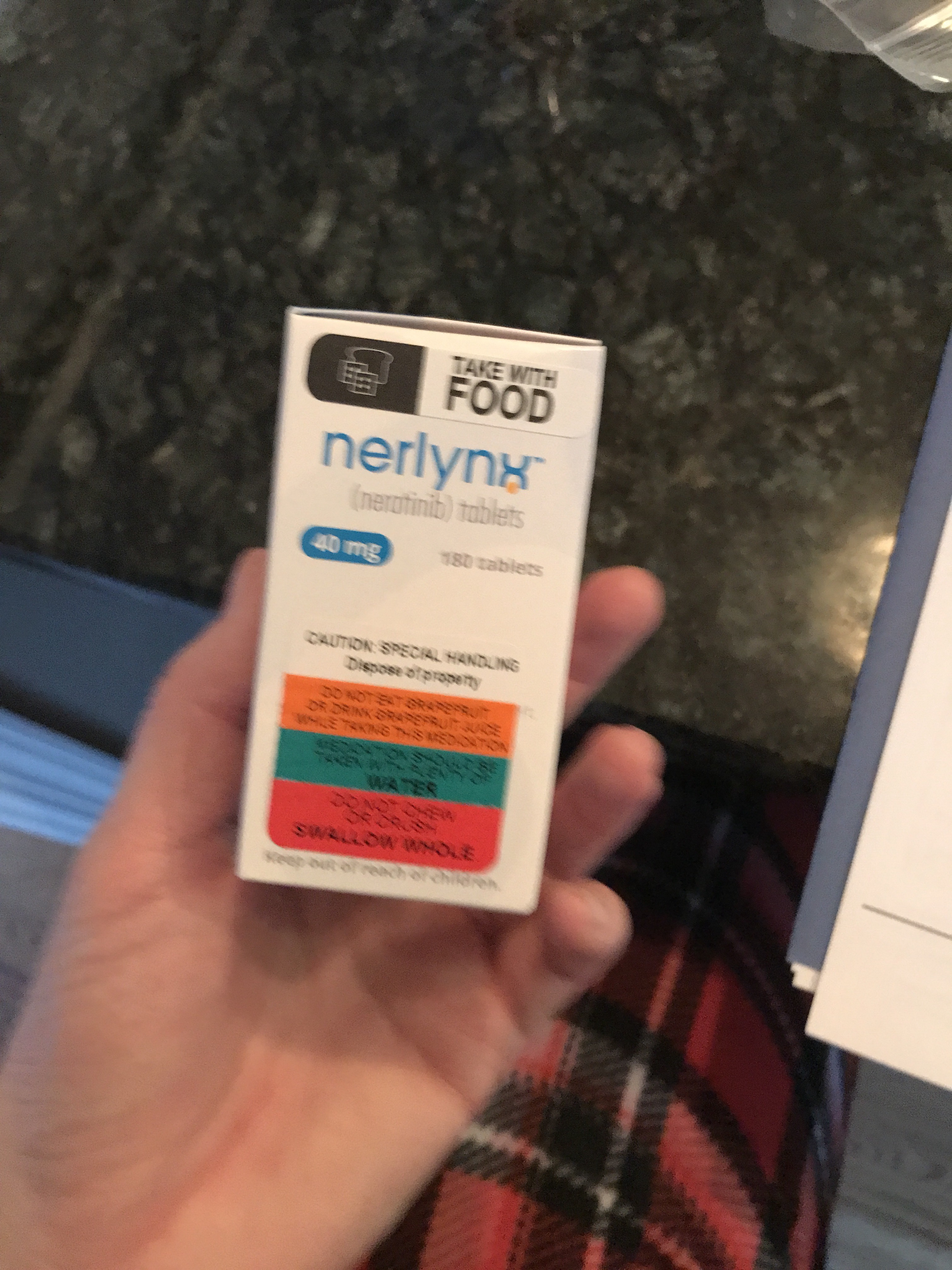 Nerlynx aka Neratnib. A new drug. On the market as of July 2017. It's another way to halt the progression of cancer growth. It's another way to combat recurrence. It's another way to add time.
This drug is specifically for people who were able to have Herceptin. It's specifically for those who have been diagnosed with early stage HER2+ breast cancer.
According the the Nerlynx website:
NERLYNX is an oral, extended adjuvant therapy, meaning it is designed to be taken after your adjuvant Herceptin treatment (following surgery). NERLYNX is the first HER-2 targeted treatment approved by the FDA to further reduce the risk of recurrence after Herceptin.

Normally, HER2 receptors on healthy cells send signals to tell them when to grow. In HER2+ breast cancer, some cancer cells have too many HER2 receptors. These cells grow and divide uncontrollably.

Other HER2 treatments may work by interfering with the HER2 receptor from outside the cell. NERLYNX interacts with multiple HER family receptors and works inside the cell to block multiple growth pathways. This alters the signals that lead to cancer growth.

The most common side effect of NERLYNX is diarrhea.
And. It is noted that in studies, it decreases the chance of recurrence (return of invasive disease, or death) by 34%.
Wow. What a time I live in. What a time we live in.
Of course there will be and are side effects. You don't take a chemotherapy drug without having to weigh the positives with the negatives. But I am a 35-year-old who got bagged over the noggin by cancer at 33. The benefits outweigh the risks for me.
+++
So today I start. I am nervous. I have been in such a great place. I am used to the drugs I am currently taking. I am used to the side effects of that. I have figured out what I need to do to make it all work with my life. I am working out regularly. Have modified my diet. And am sleeping. Like real pre-cancer sleep. It's glorious.
I have also slowly gotten off meds. Since diagnosis, I've reduced from taking a handful of pills daily to four pills every night. And one of those is my aromatase inhibitor, Exemesetane or Aromasin. Otherwise, I have been feeling like a girl who never had cancer.
So we're starting over again, in a sense. But for good reason. For 34%.
The main side effects include fatigue and diarrhea. They prescribe imodium alongside the six daily pills. Because the And luckily, I've already been through the ringer on the poop train. Because from what I understand, this diarrhea side effect is legit shit. And emergent. But after c diff, I feel like I can handle the shitstorm if it comes.
Additionally, the first 60 days seem to be the worst for those issues. I will have blood work every month to assess kidney functions. I will continue to have bone density scans for bone loss associated with Aromasin+Lupron. And I will have an EKG every three months to make sure my ticker is in tip top shape.
Otherwise, I will be learing how this new drug effects my life. Nerlynx. Six tiny pills. Hopefully one huge impact. And decades of life ahead to celebrate that.
+++
To read all about Nerlynx, check out their website (this is not an ad or some sort of promotion or endorsement for this drug. It is just be chronicling my life.)
---
---
You might also like
---