Okay, friends. Today, I gift you a little piece of my Holiday cheer: Dodie's Wassail.
Dodie is my mom. Yes. That is her name. Kind of. But that's a whole story for another day. So Dodie. Dodie can almost always be found one of three places: In the kitchen, in the pool, or in her office, working away. Sure, she does lots of other stuff but if you can't find her and it isn't work time or summer time, you will almost always find her in the kitchen. She not only has a passion for cooking, she is also pretty exceptional at it, if you ask me (and anyone else who's ever eaten her food).
Because of my mother's kitchen prowess, a fair amount of my memories from childhood involve food. Her spaghetti was always my birthday request. Her cherry coffeecake was one of my favorite breakfasts. Nachos on Sunday nights. And during the Holiday season, party mix and wassail.
Wassail. Yes. "Here we come a-wassailing" is a real thing. It's a cider-like drink that, to, me, is just one big cup of cozy.
And so, every year, I make it, too.
And it is now a part of my boys' Holiday memories, too.
Yesterday I made my first pot of the season and it felt like finally — after the Nebraska weather has been not-so-Christmas-like — felt a little more like the most wonderful time of the year.
Of note, I will drink wassail cold OR hot. I pour the big batch I make right back into the Apple Cider jug and we keep it on hand. And if you're wanting to be adulty about it, you can add some brandy. But honestly, I prefer it on its own.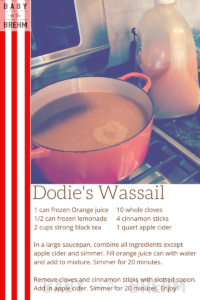 Happy Holidays!
---
---